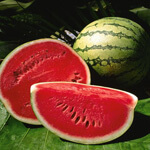 Watermelon is one of the most well-loved of fruits. Sweet, juicy, refreshing, and forever associated with summer days and warm climates, it is hard to imagine a world in which this delicious fruit – which originates from southern Africa, and is related to the pumpkin, squash, and cantaloupe – didn't exist. Despite its obvious charms, however, few people know much about watermelon's nutritional value. Most people are aware, for instance, that oranges are high in vitamin C, that bananas are rich in potassium, or that blueberries are blessed with antioxidants. But when it comes to watermelon, many people draw a blank. So, let's tale a closer look at its health benefits.
List of Health Benefits
Hydrating qualities – Well, it might as well be confirmed from the outset: Watermelon is more liquid than solid. By weight, the average watermelon is comprised of 92% water and 6% natural sugars. Therefore, not only is watermelon a great weight loss food due to its low calorie and fat content, but it's also a rare example of a food-based water source. While foods like watermelon shouldn't (and can't) replace our body's need for fresh water, it shouldn't be overlooked as a alternative thirst quencher.
Antioxidant activity – Watermelon is loaded with some of nature's most powerful and important antioxidants. One of these antioxidants is beta-carotene, a carotenoid that is important for creating vitamin A within our bodies. Better still is watermelon's lycopene content. Lycopene is an extremely important antioxidant – it has the ability to neutralise free radical molecules – and watermelon contains a lot of it (in fact, watermelon gets its pink-red coloring from its lycopene content). Note, however, that the watermelon's lycopene content is proportionate to its ripeness. Therefore, try and buy ripe watermelons when possible.
Good source of vitamin C – Watermelon is rich in vitamin C, one of the most important vitamins. One cup (152g) of watermelon provides us with 20% of our RDA of vitamin C. While this may not sound like much, don't forget that watermelon is mostly water, so you're receiving your vitamin C from a low-calorie source – a low-calorie source that can be heavily-consumed without need for guilt! Vitamin C is, of course, important for healing wounds and forming scar tissue, and for repairing bones and teeth.
Additional nutrients – Aside from the nutrients mentioned above, one cup of watermelon also contains: 17.2% of your RDA of vitamin A (needed to form and maintain healthy teeth, skin, and tissue), 4.8% of our RDA of potassium (needed for our main organs, especially the heart and kidneys, to function properly), 3.8% of our RDA of magnesium (needed for keeping our bones strong and our blood pressure stable), and an impressive about of dietary fiber, which makes watermelon an effective laxative.
Conclusion
Evidently, there is no reason to doubt watermelon's healthiness. It may not be as antioxidant-rich as mangosteen, or as rich in trace minerals as blackstrap molasses, but it certainly shouldn't be overlooked as part of a healthy diet. Moreover, whereas most children probably won't like the taste of mangosteen or blackstrap molasses, they will absolutely love watermelon. In fact, due to its pleasant taste, watermelon is one of the first foods that parents turn to when trying to get their child to eat more fruit. Just remember to buy the ripest watermelon available; whilst unripe watermelon is still good for you, its inferior taste and nutritional value won't really justify its purchasing cost.