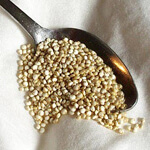 Quinoa is a grain-like plant that is usually grown for its edible seeds. A chenopod, quinoa is related to spinach, tumbleweeds, and beets. The origins of quinoa lies in the South American countries of Ecuador, Peru, Columbia, and Bolivia, where the crops were domesticated for human consumption between 3,000 to 4,000 years ago. It is a hardy plant, and can grow at both coastal levels and to altitudes of over 4000 meters in the Andes. However, quinoa's optimal growing conditions are in cooler climates that have well-distributed rainfall throughout the year.
List of Health Benefits
Since quinoa is an excellent provider of calcium, it is a good bone builder that is especially useful for people who cannot, or choose not to, receive their calcium from non-diary sources, such as vegans or lactose intolerants. Calcium is an important trace mineral that is required for healthy teeth and bones. It also helps to regulate the heart's contractions, and facilitate muscle and nerve functions. A cup of quinoa provides 30mg of calcium (as well as large quantities of magnesium, zinc, and potassium, which also help nerve, muscle, and heart functions as well).
While quinoa is good for the bones, heart, and nerves, it is also good for the brain. One cup of quinoa provides approximately 15% of our recommended daily intake (RDI) of iron, another important mineral that helps the body to send oxygen to the blood, which boosts brain processes. Furthermore, quinoa contains a sizable amounts of vitamin B, which sharpens the mind, and beta carotene, which synthesizes vitamin A in our bodies.
Quinoa contains a large amount of protein, which is essential for building and repairing tissue, and for assisting basic processes such as digestion, excretion, and growth. A cup of quinoa contains 9g of protein, which is more than an egg or other complex carbohydrates like barley and wheat. Furthermore, quinoa provides all eight important amino acids, therefore making it a complete protein.
Again, this shows that quinoa is an excellent food for vegans and other individuals who cannot, or choose not to, receive their essential nutrients from meat sources.
Quinoa is high in fiber, a nutrient that eases the passing of food through the body's digestive tracts, therefore eliminating bloating and constipation problems. Also, unlike other types of grain, quinoa is a gluten-free food, so it can be taken by people suffering from digestive issues.
Lastly, quinoa is a low-cholesterol provider of carbohydrates that is digested slowly by the body, meaning that its glycemic index is low. This fact, coupled with its healthy polyunsaturated fat content, means that quinoa is a great food for people trying to lose weight. A popular dieting tip is to eat quinoa for breakfast, preferably with vegetables or beans. This way, you will receive an excellent source of vitamins, minerals, protein, and fiber, as well as a good energy boost that will serve your morning well.