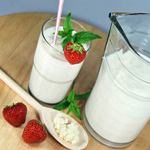 Kefir (pronounced 'kee-fer') is a thick, tangy, yogurt-like drink made by fermenting milk with the grains of the kefir plant, which are high in yeast, polysaccharides, and lactic acid bacteria. It has become an extremely popular drink across Eastern and Northern Europe, and is also gathering momentum in the United States and the United Kingdom since more and more supermarkets have started selling pasteurized versions of it on their shelves.
Advantages
Health experts consider kefir to be a nutritious drink, and perhaps this is a big reason for its growing popularity. According to the latest research, kefir is linked to the following health benefits:
Probiotics – Like most dairy products, kefir is a good source of healthy microorganisms, which prevent harmful bacterial growth in the intestines. In fact, kefir contains numerous cultures that aren't present in yogurt, namely, Acetobacter species, Lactobacillus Caucasus, Torula kefir, Saccharomyces kefir, Leuconostoc, and Streptococcus species. All of these cultures promote good digestive health.
Source of vitamins – One cup of kefir contains 10g of protein, which is needed for healthy muscles, skin, hair, and internal organs. One cup of kefir also provides us with 10% of our RDA of vitamin A, 25% of our RDA of vitamin D, and 30% of our RDA of calcium.
Natural laxative – Like yogurt, kefir is a mild laxative, making it a great choice of drink for people who suffer from constipation. Of course, this could also be seen as a disadvantage depending on your personal needs.
Lactose-free – Since it has undergone fermentation, kefir is lactose-free, which (like lactose-free milk and cheese) makes it suitable for individuals suffering from lactose intolerance or individuals whom are choosing to avoid lactose for other reasons.
Easy to digest – The curds in kefir are smaller than those found in yogurt, which makes it easily digestible for people of all ages.
Disadvantages
Kefir is not without its problems. Some readers might not view the following points as disadvantageous, but they are worth bearing in mind regardless:
Weight gain – Kefir is not a good choice of drink if you're trying to lose weight, especially if you purchase a brand. One popular brand of kefir was discovered to contain 150 calories, 8g of fat, 5g of saturated fat, 30mg of cholesterol, and 12g of sugar in a single cup! Natural kefir contains less of each, but it still isn't a drink that should be consumed regularly unless you are a bodybuilder or someone whom is actively seeking to gain weight.
Strain-specific issues – Kefir contains numerous strains of bacteria. Whilst these cultures are considered beneficial, it is not known how well some people will respond to them. For example, in a recent study made at the University of California Berkeley, researchers discovered that the Enterococci strain of bacteria present in kefir caused problems for people with weak immune systems. Research into this issue is still ongoing, however, it seems safe to conclude that kefir is not going to be for everyone – it's best to see how your body responds to one glass of it before you consider purchasing or making more.
Expensive – Compared to regular milk and yogurt, kefir isn't cheap, even if you intend to make it yourself. If you're looking for a long-term substitute to yogurt but are on a budget, kefir might not be the best choice.