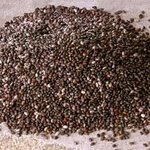 Chia seeds are local to South American countries like Guatemala and Mexico, and belong to the same plant family as mint plants. Only the seeds of the chia plant are harvested for commercial selling.
Despite having exceptional nutritional value, these humble seeds remain relatively unknown in the West, although certain health food circles are starting to embrace them. Let's take a look at those health benefits in detail now.
List of Health Benefits
Rich in fatty acids – Chia seeds are probably the best source of omega acids. Just one tablespoon of them contains almost 2500 mg of omega-3 acids, about 800 mg of omega-6 fatty acids, and about 300 mg of omega-9 fatty acids. Including more omega-3 fatty acids in one's diet will improve brain function and also fight against inflammation problems that can lead to conditions such as Alzheimer's disease, asthma, and even arthritis. Furthermore, despite their fatty acid content, chia seeds remain relatively low in calories. Since people usually get their omega-3 acids from seafood, which is quite calorific, chia seeds are an especially attractive option for people whom are watching their weight.
Stabilizes blood sugar levels – When ingested, chia seeds form a gel that slows the breakdown of carbohydrates. When carbohydrates take longer to break down, the digestive system processes sugar more gradually. Stable blood sugar levels minimize the risk of developing diabetes, which can set in due to persistent sugar spikes.
Easy to digest – Unlike flax seeds (a popular alternative to chia seeds), the seeds of the chia plant are extremely easy to digest, even when consumed raw. Since they can be eaten raw, one can also carry them in a small container and not worry about having to cook them before consumption.
Appetite suppressant – The aforementioned gel that forms when chia seeds are eaten can suppress one's appetite Therefore, chia seeds can be used as an appetite suppressant that aids weight management and, in many cases, weight loss.
Excellent butter substitute – One little-known secret about chia seeds is that its gel can be used like butter when baking cookies or cakes! Even more impressively, foods baked with chia seed gel (or a butter-gel mix) last longer than foods that are exclusively baked with butter. Taste is not sacrificed, either.
Complete protein – Like buckwheat, chia seeds are a complete protein (that is, a food that contains all eight essential amino acids). Consequently, they are an excellent source of plant-based protein for vegetarians.
Antioxidant properties – Chia seeds are high in antioxidants, which help fight free radicals in the body. When left unchecked by antioxidants, free radicals can run rampant and destroy cells by oxidizing them. Although free radical damage is often linked to poorer skin quality, it can also lead to serious internal problems like cancer and tumorous growths, which can all be tackled via the antioxidants found in chia seeds.
Additional nutrients – One tablespoon (15 grams) of chia seeds also provides us with 70 calories, 3 grams of fat, and approximately seven percent of our recommended daily intake of calcium and iron. Chia seeds are also cholesterol-free, sodium-free, gluten-free, and an excellent source of dietary fiber.
Conclusion
Evidently, chia seeds are close to being a superfood. Compared to numerous other foods (including some full-blown superfoods), they are also incredibly cheap, and therefore affordable for almost everyone. We recommended them wholeheartedly.
Natural health researchers agree that we can safely consume about 25 grams of chia seeds per day, which is the equivalent of two tablespoon's worth. Exceeding this dosage might lead to diarrhea due to the seeds' high fiber content.