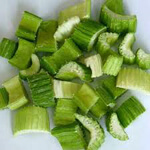 Celery is a small plant that is widely-available in several different varieties. Generally, only the root of the plant or its stalk is used in cooking, although sometimes the leaves and seeds of the celery plants are dried and crushed for use as a spice. Celery can also be eaten raw, or as a finger food that is dipped in hummus or various sauces.
Despite its somewhat bland and perhaps even disagreeable taste, this humble vegetable is not without its merits. Indeed, it is more nutritious than many other vegetables.
List of Health Benefits
High in fiber – One cup of raw celery provides you with approximately 8 grams of fiber, which is quite a lot seeing as the adult body needs approximately 25 grams of fiber per day to function properly. Fiber helps to cure constipation by softening stools.
Anti-cancer properties – Celery contains elements called acetylenes that have the ability to stop the growth of tumorous cells. In particular, regular celery consumption is known to curb the development of colon and stomach cancer. Celery can also help a patient whom is already suffering from cancer by preventing the cancer from spreading further.
Reduces blood pressure – Celery has high levels of manganese, a mineral that has the ability to reduce blood pressure. Manganese relaxes the cells located along the walls of the arteries, thereby allowing dilated arteries to pass blood more freely, thus reducing blood pressure. However, regular celery consumption is required for this benefit to be realized.
Lowers cholesterol – Scientific experiments have shown that a person can lose as much as 6 points off their cholesterol level by consuming just two celery stalks per day for a month. In fact, celery goes one step further with cholesterol regulation; it also increases the bile acid secretions naturally produced by the body, resulting in more bile being available with which our bodies can remove bad cholesterol.
Natural sleep inducer – Celery contains properties that can aid sleep. Therefore, people suffering from insomnia will greatly benefit from a drink of celery juice before bed time, especially if it is mixed with honey. Besides inducing sleep, celery also accelerates the repair process that all bodies undergo during sleep.
Boosts kidney health – Raw celery juice is a natural diuretic that aids the process of removing kidney toxins. A diuretic stimulates a person to pass more urine, providing the kidneys with a better chance to unclog themselves. Even if one has already developed kidney stones or gallstones, the consistent intake of celery juice can help such stones pass and prevent subsequent formations.
Immune system booster – Celery contains highly beneficial elements called coumarins, which boost the body's immune system and thus protect it from countless infections. Coumarins have also been known to provide relief from migraine headaches.
Good source of vitamin C – Celery contains high levels of vitamin C, an important antioxidant that protects the body from free radical damage.
Calms the nerves – Due to its high calcium levels (an important mineral that aids the nervous system), celery can calm the nerves and fight stress.
Celery Is Not for Everyone
Clearly, celery has many benefits to offer us. However, it is important to remember that certain persons should avoid eating it in one or more of its forms, namely:
Pregnant women – Pregnant women should avoid eating celery seeds and celery oil, since they can cause bleeding in the uterus and contractions that, in extreme cases, can lead to a miscarriage. Research has shown that eating celery stalks is fine but, given the consequences of eating celery seeds and oil, it might be best for pregnant women to avoid it altogether.
People will allergies to celery – Just as some people are severely allergic to peanuts or sesame seeds, a small percentage of the population are also severely allergic to celery. When an individual whom is allergic to celery consumes it, they can go into anaphylactic shock – or worse. People with such allergies should remember that boiling or cooking celery will not make it an allergy free-food, and that celery can also be used in countless spice mixes. Therefore, one must be very careful if they suffer from a celery allergy. As with nuts and seeds, you'll be surprised how often this vegetable is added to restaurant dishes and supermarket products.