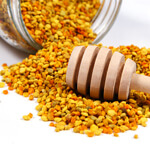 Bee pollen, also known as bee bread or a pollen ball, is pollen that is packed into granules by worker bees for the purposes of feeding younger bees. The pollen typically contains many types of fungi, bacteria, and enzymes, as well as a lot of nectar and honey. Due to its numerous and well-established health benefits, bee pollen is often sold as a health supplement, sometimes under the name 'ambrosia'. Let's take a look at those benefits in greater detail now so you can decide for yourself whether this interesting food is suitable for your needs.
List of Health Benefits
Immunity against allergies – Studies have shown that bee pollen, especially local bee pollen, has the ability to slowly bolster the immune system in such a way that it becomes compatible with the local area's plants, food, and air (i.e. components that often induce allergic reactions). However, the same studies have also suggested that bee pollen might not have the ability to completely make a person allergy-free; it can only improve their chances of avoiding an allergic reaction in the future.
High in antioxidants – Bee pollen is rich in antioxidants, notably carotene and quercetin. Antioxidants are important substances that combat free radical activity, which can lead to accelerated aging. Therefore, consider adding more bee pollen to your diet if you wish to avoid the negative affects of aging.
Aids weight loss – Studies have indicated that bee pollen contains high levels of a compound called lecithin, which has the ability to metabolize and use up fat cells for energy instead of just letting them accumulate in the body. Bee pollen also contains phenylalanine, an amino acid strain that functions as an appetite suppressant, which encourages a person to ingest fewer calories than they otherwise might.
Treatment for enlarged prostates – Bee pollen, taken as a supplement over a prolonged period, can provide great (and side effect-free) relief to a person suffering from the symptoms of an enlarged prostate. Although bee pollen cannot reverse an enlarged prostate condition, it can definitely limit the deterioration of the condition.
Rich in minerals and nutrients – One tablespoon of bee pollen provides 1.2 grams of protein, approximately five percent of an adult's recommended daily amount of copper and vitamin C (vitamin C being one of the most important antioxidants in the world), and approximately two percent of an adult's recommended daily amount of zinc, an extremely important trace mineral that improves biological functions.
Helps manage arthritis – Studies indicate that bee pollen contains strong anti-inflammatory properties that can help minimizesymptoms exhibited by inflammatory conditions like arthritis. Similarly, bee pollen can also help with other inflammatory health conditions such as asthma.
Prevents bone density loss in diabetic patients – Diabetic patients usually suffer from a condition whereby their bones lose density at a rate that is faster than that of a non-diabetic person. Bee pollen can help slow down this bone density loss.
Possible Issues
While bee pollen is generally safe for most people, certain people are encouraged to avoid it. Women, for instance, are encouraged to avoid bee pollen when pregnant, and even during breastfeeding. Furthermore, some studies have shown that bee pollen can interfere with the interactions of certain prescription drugs, especially drugs that are prescribed to manage blood pressure. Therefore, if you're on blood pressure management drugs, it's probably best to avoid bee pollen altogether.