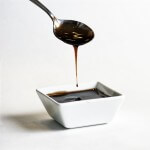 Blackstrap molasses is the third and highest grade of molasses, differing from other grades of molasses insofar as it has a much fuller and more robust flavor. Made from boiling sugar cane three times, blackstrap can serve as a healthy natural alternative to many processed sweeteners. Blackstrap is also considered by some health researchers as a holistic treatment for a range of ailments. Whether eaten for medical purposes or simply for taste, blackstrap is a great ingredient to have at hand for any health-conscious cook, chef, or health food fanatic.
Health Benefits
Blackstrap molasses is great for people who have glucose or blood-sugar level issues since it has a low glycemic index. This means that the glucose and carbohydrates in the molasses are broken down much slower than in processed sugars, meaning that they require much less insulin for the body to process and are therefore healthier for those with blood-sugar issues such as diabetes.
Blackstrap is also high in iron, which is a vital mineral used by the body in its production of red blood cells. It is this high iron content that makes blackstrap a great choice for those whom are trying to overcome anemia, a disease that causes red blood cells to shrink in number and surface area, and is usually treated with iron supplements. However, these iron supplements tend to cause nausea and constipation for people with sensitive stomachs. Blackstrap is a healthy natural alternative for people looking to boost their iron intake without dealing with the side effects that artificial treatments invariably provide.
Two additional minerals present in blackstrap molasses are magnesium and calcium. Magnesium and calcium work together to ensure proper bone strength and growth. Magnesium also plays a role in regulating heart health and greatly reduces the risk of a heart attack.
Blackstrap As a Holistic Cure
Due to its many uses, blackstrap molasses is one of the most widely used holistic cures among the natural healing community. It can be used to treat many ailments, including arthritis, acne, joint pain, constipation (molasses is a natural laxative), anxiety, and heart palpitations. Blackstrap is also great for treating cardiovascular disease due to its chromium content. Chromium washes away fatty build-ups in veins and arteries that can cause deadly blood clots.
Less orthodox uses of blackstrap include using it to treat hemorrhoids, and, thanks to its copper content, using it to reverse graying hair. Although these claims may seem far-fetched, the truth is that countless people are using blackstrap to successfully treat a variety of ailments.
Made from the juice of pure cane sugar, blackstrap molasses is an excellent alternative to other artificially processed sugars. It also has a variety of minerals that provide various health benefits, making it a great addition to any healthy diet.