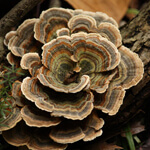 The world's greatest healing systems have long revered the medicinal power of edible mushrooms. In ancient Chinese and Indian medicine, for instance, mushrooms were often prescribed to individuals suffering from a wide range of conditions ranging from fatigue to serious degenerative diseases. In Europe, too, mushrooms were beloved for their significant healing properties, which were often attributed to their dense concentrations of essential nutrients.
As drug-based medicine continued to soar in popularity in the twentieth century, however, many cultures began to forget about the healing plants that had safeguarded their ancestors' health for centuries. This is unfortunate, since ongoing research continues to show that mushrooms really are disease-fighting powerhouses. This article provides a list of three healing mushrooms and the diseases they're proven to treat.
Turkey Tail: Cancer
Turkey tail (Trametes versicolor) is a bracket fungi whose beautiful colors and patterns resemble the tail feathers of a turkey. It grows worldwide, and – being a beneficial decomposer of dead wood – often forms in huge colonies on the wounds of living and dead trees.
Turkey tail is best-known for its cancer-fighting properties. One study published in ISRN Oncology in 2012, for instance, found that taking up to nine grams of turkey tail extract per day could improve the immune status of patients with breast cancer. Another study, published one year later in the International Journal of Molecular Medicine, discovered that turkey tail – when combined with reishi, another popular disease-fighting mushroom – could induce apoptosis in leukemia cells.
Lion's Mane: Depression and Cognitive Dysfunction
Lion's mane (Hericium erinaceus) is a globular-shaped fungus that is characterized by its cascading teeth-like spines, from which white spores emerge. In fact, the mushroom is also called the "pom-pom blanc" since it tends to resemble the white poms-poms used by cheerleaders.
Lion's mane's positive effects on brain function are well-recorded. For example, a study published in Biomedical Research in August 2010 found that subjects who took a lion's mane supplement for four weeks demonstrated reduced depression and anxiety compared to the placebo group. A review published in Critical Reviews in Biotechnology in March 2014 also listed lion's mane as one of the mushrooms that can prevent age-related neurodegenerative diseases such as Alzheimer's disease and Parkinson's disease, and that it possessed – among many other benefits – neuroprotective, antioxidant, and anti-inflammatory properties.
Chaga: Metabolic Disorders
Chaga (Inonotus obliquus) is a hard and woody fungus that thrives in the coldest parts of Europe, especially Russia. Despite looking like a cracked piece of charcoal, chaga is a mushroom of considerable medicinal value, and it enjoys a long and rich association with European folklore.
While extremely versatile as a disease fighter, chaga seems to specialize in treating metabolic disorders like diabetes due to its high concentrations of secondary metabolites (intermediates and products of metabolism). One study published in Phytotherapy Research in February 2014, for instance, found that a melanin complex of chaga "exerts antihyperglycemic and beneficial lipid-metabolic effects, making it a candidate for promising antidiabetic agent." Research featured in the Journal of Ethnopharmacology in June 2008 also showed that chaga could lower glucose levels and prevent the oxidative degradation of lipids in diabetic mice.