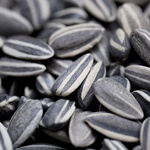 Sunflower seeds are the fruits of the sunflower, those characteristically tall, large-headed plants with yellow rays. As a snack, the seeds have a somewhat 'low class' reputation; after all, we are more likely to imagine baseball coaches chewing on sunflower seeds during a game than a raw food chef sprinkling them onto a salad! Regardless of their reputation, however, sunflower seeds – like most plant seeds – are extremely nutritious. Let's now take a look at their health benefits.
List of Health Benefits
Good for the heart – Sunflower seeds contain unusually high levels of vitamin E, a potent antioxidant that prevents free radicals from oxidizing cholesterol in the body. This improves the health of the heart, since without such antioxidants our cholesterol would oxidize and then block our body's arteries, eventually leading to a heart attack or, in the worst cases, a fatal stroke. Just half a cup of sunflower seeds is enough to give you more than 100 percent of your daily recommended allowance of vitamin E.
Prevent arthritis – Vitamin E also has the ability to travel throughout the body, eliminating unstable molecules that can cause inflammatory conditions such as arthritis, rheumatoid arthritis, and even asthma. Therefore, if you suffer from any of these medical conditions, consider adding more sunflower seeds and other anti-inflammatory foods to your diet to help lessen the pain.
Low glycemic index score – Sunflower seeds contain a low GI score of 30, making them a low glycemic index food that do not affect blood sugar levels in a noticeable manner. This makes them an excellent food for diabetics.
Rich in protein – Just 50 grams of sunflower seeds provides us with ten grams of protein, along with 270 calories. This makes the seeds an excellent choice for vegetarians whom are seeking high-quality, plant-based protein sources.
Cancer-fighting properties – The vitamin E content in sunflower seeds (yes, it provides yet another benefit!) helps to prevent cancerous cell formations in the colon, prostate, and bladder. Sunflower seeds also contain respectable levels of selenium, another antioxidant that promotes the production of an enzyme called glutathione peroxidase, which enables the liver to cleanse the body of potentially cancerous cells. Selenium also has the ability to repair fractured DNA, an issue that is often exploited by cancerous cells.
Improve bone health – Sunflower seeds contain high levels of magnesium and copper. Magnesium keeps the bones strong, while copper keeps the joints that connect the bones strong.
Calm nerves – Some people often experience a loss of tension, along with feelings of relaxation, after consuming sunflower seeds. This is because their aforementioned magnesium content helps to calm the nervous system by restricting the amount of calcium that enters the nerves (when inside the nerves, calcium can cause uncoordinated signal transmissions and contractions that can lead to high stress and tension levels).
Good source of fiber – Sunflower seeds are an excellent source of dietary fiber, making them an excellent cure for constipation.
Recommended Daily Intake
We recommend restricting your intake of sunflower seeds to 50 grams (2-3 teaspoon's worth) per day, since this provides us with a stable 270 calories, ten grams of protein, and 23 grams of fat (of which approximately half is saturated fat). Such moderation is recommended due to the seeds' reasonably high calorie and fat content.
We do not advise you to eat sunflower seeds that have been exposed to high heat, since heat can damage their nutrients and even make them undesirable for the body. Therefore, if you accidentally leave a bag of sunflower seats in your car for a few days, exposing them to unnatural heat, it's probably best to throw them away and purchase a new supply.