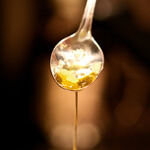 Ghee is a form of clarified butter, comparable to the drawn butter we find in crab or lobster dishes, which is common in Indian cooking. It is produced through the rendering of butter in a large saucepan until 3 layers are formed: A watery upper layer (which is removed), a solid butter layer, and a milk solids layer (which is also removed). This leaves the solid butter layer, which is the clarified butter, or ghee.
Ghee is beloved by cooks and chefs because it doesn't burn whilst frying, and because of its rich buttery flavor – and flavor that becomes more intense the longer the butter is cooked. Another reason why ghee is loved, however, is because of its numerous health benefits. Let's take a look at those benefits now.
Nutritional Value
Since ghee is composed entirely of saturated fat (specifically, 14g of fat per tablespoon), it is not an ingredient to be consumed regularly. Several of its opponents have concluded that excessive consumption of ghee can, in the most serious of cases, trigger heart disease.
That said, studies have linked the following benefits to moderate ghee consumption:
Ghee is a pure, clarified butter. This means that it contains no artificial additives, preservatives, trans fats, or hydrogenated oils. Also, because the butter's milk solids layer was removed during the rendering process, ghee is lactose-free, and therefore suitable for lactose intolerants or people whom are otherwise sensitive to dairy products.
Ghee stimulates the secretion of stomach acids, which aids the digestive process. This is the opposite to other fats like regular butters or oils, which slow the process and tend to 'sit' in our stomachs, making us feel sluggish and bloated.
According to Indian folk medicine, ghee is an excellent remedy for constipation, ulcers, for improving the health of our skin, and for the topical treatment of blisters and burns. Indian medicine also states that ghee helps to improve our memories and learning capabilities, although these claims are not validated by Western science.
Finally, ghee is rich in antioxidants and helps us to absorb minerals and vitamins from other foods, which nourishes our bodies' tissues and strengthens our immune systems. Moreover, its high concentration of butanoic acid (a fatty acid found in butter) provides it with anti-bacterial and anti-cancer properties.
Vegetable Ghee
Unfortunately, because ghee is higher in cost than hydrogenated vegetable oil, inauthentic ghee products made using the latter are starting to replace real ghee in numerous third world countries, including India itself. This inauthentic ghee, which contains the same trans fats as the vegetable oil from which it is sourced, contains very few of the health benefits listed above and should be avoided. Thankfully, many countries have criminalized the selling of the so-called 'vegetable ghee' as regular ghee. In the West, however, the chances of health stores marketing ghee as vegetable ghee is very slim, and not an issue likely to affect most Western buyers.