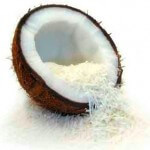 Depending on your location and your food preferences, flour might be a staple in your diet. Unfortunately, flour that is sold to us is often enriched and high in starch. When a food is high in starch, it can play havoc with the insulin levels in your body, which can lead to various problems such as a low metabolic rate, weight gain, heart problems, and more.
However, you can continue to use flour in your diet by opting for a healthy alternative such as coconut flour, which is made from the white fleshy part of the coconut fruit after it has been drained of its milk or juice. As you will see, flour derived from the insides of a coconut has a number of benefits to offer you.
List of Health Benefits
Gluten-free – Gluten is a protein that is normally found in foods that contain enriched flour, and can cause inflammation to organ tissue. Many patients suffering from heart diseases or cardiac diseases are often encouraged to completely avoid foods that are gluten-rich. Even healthy people risk inflammation when they consume consistent levels of high gluten foods. Coconut flour, however, is completely gluten-free. Using it in recipes that require flour will allow you to enjoy the tastiness of flour-based foods without the risks associated with enriched or all-purpose flour.
High in fiber – A lack of fiber is a common problem in today's diet. Fiber is a very important component in a diet as it regulates cholesterol levels and helps to prevent constipation. The right amount of fiber can reduce the absorption of sugar in the body, thereby reducing the risk of sugar-induced health risks such as diabetes, heart problems, and even certain forms of cancer. The flour made from coconuts, however, contains very high levels of fiber. Although many fiber-rich foods are unpleasant-tasting, coconut flour will allow you to get a healthy dosage of it while you eat delicious foods such as baked pastries, gravies, and pancakes.
Rich in protein – What makes coconut flour really special is that it is contains huge amounts of protein. Though it is free of the gluten protein, it can give you a good dosage of the healthy kind of protein that is required in your diet. In fact, the protein levels found in flour derived from coconuts is much higher than traditionally healthy flour foods such as rye bread or cornmeal. The amount of protein in coconut flour is on par with the protein levels found in enriched wheat flour, but minus the gluten.
Carbohydrates
You should also consider coconut flour because it has fewer carbohydrates than enriched flour. One cup of enriched, all-purpose flour will provide you with 80 grams of carbohydrates, whereas the same amount of coconut flour will give you just 65 grams of carbohydrates, allowing you to better manage your daily calorie intake.