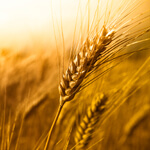 The general consensus among medical professionals is that whole grains are an essential component of our diet. After all, everyone knows that grain products comprise the entire base of the United States Department of Agriculture's official food pyramid, and that adults should consume between 6 and 11 servings of grains per day for optimum health. Surely a food group that is promoted so widely, and is held in such regard by experts, couldn't be bad for us?
Unfortunately, ongoing evidence continues to show that grain consumption is having an extremely damaging effect on our bodies. This is especially true of the world's most popular grain, wheat, which is proven to be one of the biggest health-destroying foods in the Standard American Diet.
Wheat Spikes Blood Sugar
According to the glycemic index, which is a marker of how quickly foods elevate blood sugar levels, whole wheat bread has a GI score of 71. Not only is this score equal to that of white bread, but it is also higher than that of Coca Cola, Fanta, Snickers bars, and numerous other liquid sugars and junk foods.
Studies have shown that eating a diet that includes of lot of high GI foods is linked to cardiovascular issues and type 2 diabetes. Additionally, a review published in the American Society for Clinical Nutrition noted that studies have demonstrated "positive associations between dietary glycemic index and the risk of colon and breast cancers."
Wheat Is Packed with Phytic Acid
Wheat is rich in phytic acid, an "anti-nutrient" that is proven to block the absorption of essential nutrients. For example, research published in The American Journal of Clinical Nutrition in 2004 showed that phytic acid could impair our bodies' absorption of magnesium, an important macro-mineral in which an estimated 80 percent of the United States population are deficient.
Phytic acid is also known to impair our absorption rate of zinc, copper, iron, and even calcium, increasing our risk of anemia, osteoporosis, and other serious conditions. To make matters worse, "healthy whole wheat" contains even more phytic acid than refined wheat!
Wheat Is Loaded with Gluten
The main protein found in wheat is gluten, a composite that gives the dough its characteristic elasticity. Unfortunately, most people – not just those with celiac disease – have a difficult time digesting gluten. A double-blind, placebo-controlled study published in The American Journal of Gastroenterology in 2011, for instance, showed that gluten can cause gastrointestinal problems, such as pain and bloating, in subjects without celiac disease. Studies have also shown that gluten can cause bowel problems and allergy symptoms in non-celiac patients.
Wheat Increases the Risk of Heart Disease
Emerging research shows that wheat can have negative effects on our cardiovascular health. For example, a study featured in the American Society for Clinical Nutrition showed that overweight men that consumed wheat cereal on a daily basis for 12 weeks experienced an 8 percent increase in "bad" LDL cholesterol, a 14.2 percent increase in LDL particle number, and a massive 60.4 percent increase in small LDL particles. The group that consumed oats, however, experienced reductions in all risk factors. These results suggest that wheat could be a significant contributing factor to heart disease, which remains the number one cause of death for both men and women in the United States.