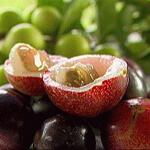 Camu camu, also called cacari and camocamo, is a small tree that grows alongside rivers in the western and central Amazon basin in South America. It bears purple, cherry-sized berries which, due to their extreme acidity, are typically sweetened into jams, jellies, and juices, rather than eaten raw. The berries have been utilized for medicinal purposes by Amazonian Indians for centuries, and were often made into hair tonics.
Although they are not well-known fruits in the West, camu camu berries rival some of the best fruits and vegetables in the nutrition department. Let's take a look at the health benefits of camu camu and find out why the reputation of this exotic superfruit is ever-increasing.
List of Health Benefits
High concentration of vitamin C – A study has shown that camu camu berries contain between a two and three percent concentration of vitamin C (approximately 3,000 milligrams per 100 grams of pulp), which is the highest known of any fruit excluding the Australian kakadu plum. Indeed, it is this ultra-high vitamin C content that gives the berry its sour taste. Although vitamin C – also called ascorbate – is best-known for its ability to strengthen the immune system, it also supports the beneficial bacteria in our digestive tract and helps to remove heavy metal particles from our system.
Anti-inflammatory properties – According to a 2008 study published in the Journal of Cardiology, camu camu berry extracts were shown to reduce the levels of oxidative stress markers like urinary 8-hydroxy-deoxyguanosine, thereby improving the inflammation and oxidative stress levels of the participants. Since chronic inflammation can lead to a number of serious diseases such as rheumatoid arthritis and even cancer, it is important that we incorporate more antioxidant-rich fruits like camu camu into our diets as a preventative measure.
Diabetes prevention – According to a 2010 study published in the Journal of Agricultural and Food Chemistry, camu camu berries contain high amounts of ellagic and gallic acid, two rare flavonoids that provide anti-diabetic effects. This fact, coupled with the fruit's low glycemic index score (meaning it has little effect on blood sugar levels), makes camu camu a safe and even desirable fruit for diabetic and prediabetic individuals.
Rich in flavonoids – Aside from ellagic acid, camu camu berries also contain high amounts of other flavonoids including catechins, rutin, anthocyanins, flavonols, flavanols, delphinidin 3-glucoside, and cyanidin 3-glucoside. Like vitamin C, flavonoids (of which there are over 4,000 known to science) are antioxidants that scavenge cell-damaging free radicals and metallic ions, thereby providing us with anti-aging benefits, memory-enhancing properties, and a lowered risk of cancer, asthma, heart disease, and strokes.
Weight loss properties – Like most fruits, camu camu berries are low in calories, rich in dietary fiber, and contain almost no fat. Consequently, you won't ever need to worry about weight gain when eating camu camu products, and they can be incorporated into a healthy eating plan. Due to the sizable amounts of natural energy they provide, camu camu berry products are best consumed during breakfast or before a workout.
Aside from the benefits already mentioned, 100 grams of camu camu berries also provide us with 1.55 grams of protein, various B vitamins (including B1, B2, and niacin), and trace minerals such as potassium, calcium, phosphorous, and iron. The fruit is also known to improve blood circulation, lower blood pressure, and increase serotonin levels, which in turn improves mood.