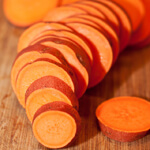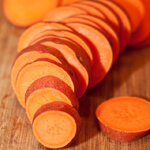 Sweet potatoes are the tuberous roots of the sweet potato vine, which thrives in the warmest regions of the world. They are characterized by the vivid colors of their flesh, which range from deep orange to light purple, and tend to be longer and thinner than regular white potatoes (to which they're distantly related). Moreover, sweet potatoes are not the same as yams, despite their close physical resemblances.
Sweet potatoes are one of the healthiest vegetables grown in the West, through they tend to be overlooked due to their acquired taste. This article contains a list of their health benefits and the studies that prove them. It's worth noting that the potatoes' vine leaves are also edible and dense in nutrients.
List of Health Benefits
Rich in vision-boosting carotenoids – The sweet potato's biggest draw is its impressive concentration of carotenoids, which are colorful pigments that our bodies can convert into the important antioxidant vitamin A. According to Self's "NutritionData," one large sweet potato contains a whopping 34,590 international units of vitamin A, which is 692 percent of our recommended daily allowance. Though vitamin A performs many functions in the body, including supporting the immune system and aiding gene transcription, its most notable role is maintaining eye health. One study published in Nutrition in January 2013, for example, found that vitamin A supplements could ameliorate obesity-related retinal degeneration in rats. A research paper featured in Science Daily in 2011 also noted that vitamin A can prevent age-related macular degeneration, which is the leading cause of vision loss among Americans aged 50 or older.
Packed with additional antioxidants – According to a spectral analysis published in Food Chemistry in 2014, sweet potatoes gain most of their antioxidant properties from their significant polyphenol content. Polyphenols are essential phytochemicals which, according to a report featured in The American Journal of Clinical Nutrition, aid in the "prevention of cardiovascular diseases, cancers, and osteoporosis and suggests a role in the prevention of neurodegenerative diseases and diabetes mellitus." Since sweet potatoes are one of the richest sources of polyphenols in the American diet, eating more of them can help shield us from these serious diseases.
Excellent source of vitamin C – Like white potatoes, sweet potatoes contains large amounts of vitamin C – around 60 percent of our recommended daily allowance per large potato, to be exact. Most people know that vitamin C aids collagen production and exhibits anti-aging benefits, but it also prevents cholesterol from oxidizing (which can protect us from heart disease) and helps stabilize blood cholesterol levels. This makes sweet potatoes a great choice for those of us suffering from cardiovascular conditions.
Low glycemic load – Unlike white potatoes, which are notorious for spiking blood sugar levels unless consumed with fats such as oils or butter, sweet potatoes contain a low glycemic load and are safe for diabetics and prediabetics to consume. They're also bursting with fiber, which helps us absorb sugar.
Sweet potatoes also contain high concentrations of magnesium, potassium, manganese, calcium, iron, protein, and most B vitamins. Many of these nutrients are found in the skin, however, so make sure you that purchase organic sweet potatoes whose skins are safe to eat.