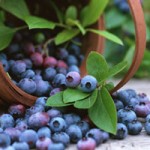 Blueberries are sweet, edible dark-blue berries of either high-growing or low-growing bushes. Blueberry bushes usually bear fruit at the height of the growing season, although their fruiting times are affected by external factors such as latitude and altitude, meaning that the bushes can fruit from as early as May, or as late as August. Most of the blueberries sold for human consumption today are sourced from eastern or northern North America (especially Maine, which produces 25 percent of all low-bush blueberries in the country), although they are native to South America, Europe, and Asia as well.
List of Health Benefits
Blueberries contain large amounts of antioxidant activity per serving, as confirmed by the United States Department of Agriculture (USDA). Antioxidants are important for neutralizing free radicals, which are unstable molecules that attempt to re-stabilize themselves by stealing an electron from a neighboring molecule, causing havoc in the body. Scientists have linked free radicals to cardiovascular disease, cancer, and progressive dementia like Alzheimer's disease. The main contributors to antioxidant activity in blueberries are polyphenols, which give the fruit its blue color.
Blueberries are filled with vitamin C, which is one of the most important vitamins needed for a robust immune system and an efficient iron absorption rate. Vitamin C also assists your body in the formation of the scleroprotein collagen, which helps to maintain healthy capillaries and gums. According to recent studies, one serving of blueberries provides 14mg of this vitamin (that's 25 percent of your recommend daily requirement).
Blueberries contain large amounts of manganese. Manganese is an important trace mineral that is essential for our bodies' bone developments, as well as for converting the carbohydrates and proteins in food into energy.
Like all fruits, blueberries are superb natural laxatives due to their high fiber content. Indeed, one portion of them will provide you with a day's requirement of fiber. Fiber is important for our bodies because it absorbs large amounts of water in the bowels, thereby improving the solidity of waste. A high fiber diet will cure constipation, bloating, and hemorrhoids, help to keep the body's weight in balance, and prevent bowel-related diseases.
Aside from the benefits already mentioned, one serving of blueberries also contains a generous amount of vitamin B6 (8 percent) and vitamin K (18 percent). It also contains 2 percent of our body's recommended daily requirement of pantothenic acid, folate, iron, magnesium, phosphorous, potassium, and zinc, and 3 percent of our body's recommended daily requirement of thiamine, riboflavin, and niacin.
Furthermore, one serving of blueberries has a very low glycemic index of 4 out of 100, meaning that they do not have a noticeable affect on blood sugar levels (making them safe for diabetics or individuals whom wish to avoid blood sugar spikes).