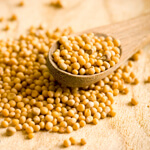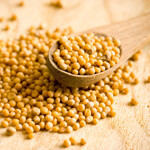 The seeds of the mustard plant have enjoyed a close connection with human civilizations since time immemorial. The Ancient Greeks and Romans would regularly use them for cooking, and they have been a staple in Indian cuisine for centuries. These robust, spicy-smelling seeds were even mentioned in the New Testament of the Bible in the "Parable of the Mustard Seed," in which Jesus emphasized that the Kingdom of Heaven could grow from humble beginnings.
The mustard seed's reputation has dwindled in recent times due to its connection to mustard, which in turn is connected to fast food such as burgers and hot dogs. This is unfortunate, since both mustard seeds and the popular condiment they produce contain many significant health benefits.
List of Health Benefits
Rich in cancer-fighting compounds – Mustard seeds are surprisingly rich in phytonutrients called isothiocyanates, which have been extensively studied for their anti-cancer benefits. For example, a study published in the International Journal for Vitamin and Nutrition Research in 2002 found that isothiocyanates can inhibit mitosis and stimulate apoptosis (cell death) in human tumor cells. Another study published in Carcinogenesis in 2010 discovered that mustard seed powder, which is rich in a particularly beneficial group of isothiocyanates called allyl isothiocyanates (AITC), can significantly inhibit the growth of bladder cancer. These impressive results suggest that adding more mustard seeds to our diets can prevent, and possibly even treat, the development of cancer.
Packed with thyroid-regulating selenium – One tablespoon of mustard seeds contains approximately 21 percent of our recommended daily intake of the essential trace mineral selenium. Aside from being an antioxidant that helps scavenge disease-causing free radicals, selenium is also responsible for transforming the sluggish thyroid hormone T4 into the more active T3. Indeed, selenium actually works alongside iodine to help maintain thyroid function. Since a malfunctioning thyroid can wreak havoc in the body (including preventing us from losing weight), it's always important to consume foods rich in selenium as well as iodine.
Contain the anti-inflammatory compound curcumin – Ever wondered why mustard and the seeds from which it is made are usually yellow? That's because they're bursting with curcuminoids, a group of fat-soluble pigments that are also found in turmeric, ginger and other yellow-colored herbs and spices. Curcuminoids, of which the best-known is curcumin, are antioxidants that possess notable anti-cancer benefits. However, they're also potent anti-inflammatories. For example, a report published in Alternative Medicine Review in 2009 found that curcumin can ease the pain associated with inflammatory conditions such as rheumatoid arthritis, inflammatory bowel disease and irritable bowel syndrome.
Good source of vitamins and minerals – Like most seeds, mustard seeds are a good source of varied nutrients including calcium, iron, magnesium, phosphorus, potassium, zinc, and manganese. Two tablespoons of them also supply us with six percent of our recommended daily intake of omega-3 fatty acids, the beneficial polyunsaturated acids required to build cell membranes in the brain.
Good-quality mustard and mustard seeds are easily purchased online or in stores. While mustard seeds can be eaten raw as a snack, their robust taste makes them especially suited to rich, cooked meals such as curries and rice dishes.