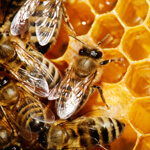 Honey is a unique and popular food, and has been used for several centuries for medicinal purposes, as a sweetener, and even as a religious food that was offered to the gods in ancient times. It is made by honey bees, who create it from the nectar of flowers for their own consumption during winter. Indeed, it is estimated that almost 30,000 bees toil for about two weeks to produce one jar of raw honey.
Of course, bees wouldn't create honey as their primary food source in winter if it weren't a nutritious food upon which they could single-handedly rely. In fact, raw honey (i.e. natural honey that hasn't undergone processing) is a hugely nutritious food that can benefit us in various ways.
List of Health Benefits
Good for the heart – Honey contains numerous antioxidants that maintain and protect your heart against various forms of heart disease by minimizing or altogether preventing free radical damage. Furthermore, antioxidants bolster your body's immune system.
Fights cancer – Honey contains high levels of flavonoids, which aid the body's immune system and its ability to prevent cancer cell formation.
Relief from gastrointestinal diseases and stomach ulcers – People suffering from gastrointestinal problems often experience relief after consuming honey, since it contains numerous antibacterial properties. For the same reason, honey is also beneficial for people suffering from stomach ulcers.
Low glycemic index score – Honey is a low glycemic index food, with a glycemic score of just 35 (although some varieties of honey can possess a glycemic index of about 80). 100 grams of honey will give you approximately 304 calories of energy, and about 82 grams of sugar.
Healthy sugar substitute – Although honey has a higher calorie count than sugar, we also require less of it to sweeten a meal or beverage, which makes it an excellent sugar substitute.
Muscle recovery benefits – Athletes or gym-goers whom engage in intense physical activity often benefit from eating honey after a workout or a game, since honey has the ability to regulate blood sugar levels, help the muscles recuperate, and restore our body's glycogen levels.
Excellent source of essential vitamins and minerals – One tablespoon of honey per day gives you a great dosage of vitamins and minerals that may otherwise be difficult to obtain, especially if your diet is devoid of fruits and vegetables. Specifically, honey is rich in folate, iron, calcium, magnesium, vitamin B3, and vitamin B2. Its fat and protein content is negligible.
Aids weight loss – Due to its calorie content, it may be a little hard to believe that honey aids weight loss, but it is true. Honey has the rather unique ability to mobilize fat in your body when consumed with warm water, although you will still have to burn off calories to get rid of that mobilized fat! Remember, fat cells are normally the last energy source used by our bodies. Honey and warm water, however, can change that by mobilizing your fat more often, giving you a better chance to burn it off.
Culinary Uses
Coffees and teas – A great way to include more honey in your diet would be to use it as a sugar substitute when sweetening beverages like coffee and tea. Although honey has a taste that will slightly alter the familiar taste of these beverages, this alteration is not necessarily a detrimental one. You might even love the unique and distinctive taste that honey can bring to a drink, so try it out.
Sandwich spread – Another excellent way to include more honey in your diet is to spread it on a sandwich. Indeed, a peanut butter and jelly sandwich can be made a lot healthier and tastier with the help of a little honey.